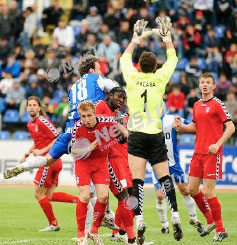 Tomislav Arcaba
Tomislav Arcaba (born 25 March 1986) is an Australian football goalkeeper currently playing with FK BSK Borca in the Serbian SuperLiga.
His football history includes playing for Wollongong Wolves in the National Soccer League from 2002-2006. From there, Tomislav played in European clubs including Sligo Rover (Republic of Ireland), FC Rapid Bukarest, FC Gloria Buzau and FC International (Romania).
Tomislav is a former Australian u20 player.